Building traditional Garage Doors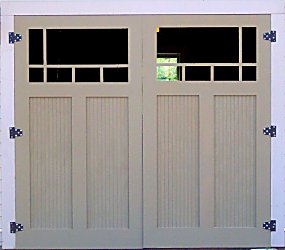 We built an Arts and Crafts or Craftsman style home for our residence. My goal when I built the house was for people not to know if it was a new house or if we remodeled an existing turn of the century cottage. This meant paying attention to the details! One which was very important to me was traditional carriage (swing out) garage doors. Roll up doors just were not right for this house.
After pricing a couple of sets of doors I decided really quick that I had to build them. I scoured the internet looking for ideas and construction methods. I found one web site on building garage doors and these were plain looking but very practical insulated doors for a cold climate. Nothing like I was looking for. While I never expected to find plans I did think I could get some information from others that had tried this. I soon realized that I was on my own on this project.
I frequent several woodworking forums on the Net. There I got ideas as I planned the construction of the doors. I decided to document this project and maybe help someone else out that is thinking of doing something similar. I have no intentions of this being a step by step guide. I just want to focus on the areas that were not so obvious and maybe share a few mistakes for you not to make.