I am finally back to work on the Chris Craft. I must admit this phase of the project has really intimidated me and I every time I come down and start working on it, I ended up staring at it, wondering how am I going to fix that bottom?
The answer was just muster up some courage and dive in. So that is what I have one the last couple of days. I started by installing some bracing to assure the boat holds it's shape as I tear it apart.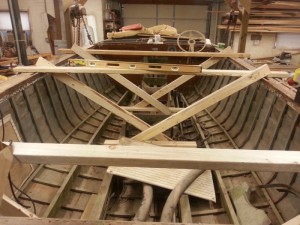 With the bracing in place it was time to crawl underneath and try to come up with a plan. I could quickly see I was going to be spending a lot of time underneath.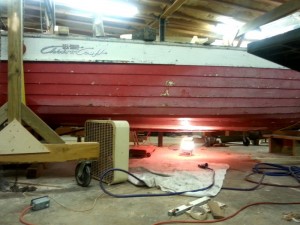 I have found that an air powered angle grinder with a paint/rust removal pad is a good choice for the task at hand. It will quickly remove paint, filler and wood! And there is a lot of all three to remove.
And here is a photo of the first (of many) screws coming out.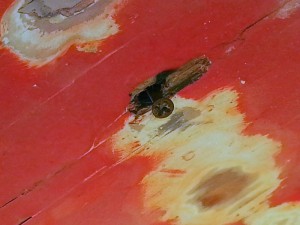 I am still intimidated by this project. Still not sure what to do but at the same time I am excited to be back at work on it.