I have not been able to spend nearly as much time as I thought I would working on the boat. I expected to be further along by now. Today I spent the better part of the day stripping the decking off the boat.
Stripping the boat has been a bigger job than I expected. Usually disassembly goes fast and you feel like you have made a lot of progress in a short time. But that has not been the case on this one. And since repairs and assembly go much slower ……..  yea, it's going to take a while.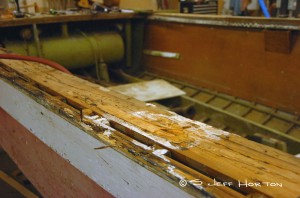 I started on the starboard side and moved a damaged section. I was pleasantly surprised to find no damage to the planking. With the access to the hidden screws I checked and every one of them was at least a little loose. I have decided to remove it all the decking so I have access to tighten these screws. After 50 years I am not surprised to find them loose!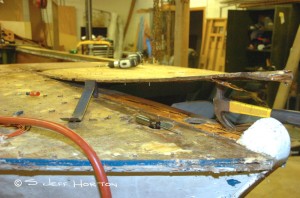 Removing the bow was a slow process. All the screws are countersunk and then puttied over. I spent a lot of time looking for the screws, chiseling out the putty, cleaning the slots and then finally removing the screws. This photo was taken while I was chasing down a couple of hidden screws that were holding the deck on.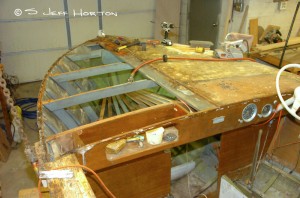 Finally I managed to get it off. Once again a couple of surprises but so far just small things.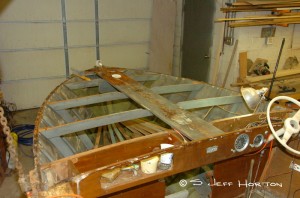 The other side came off much quicker since I knew where all the screws were. I can finally see inside clearly. I was too tired to survey the bow and see what shape it was in.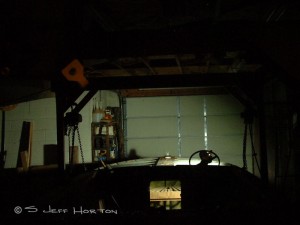 With the deck off the bow, I decided had accomplished enough. I turned out the lights and headed to the house.